Office Space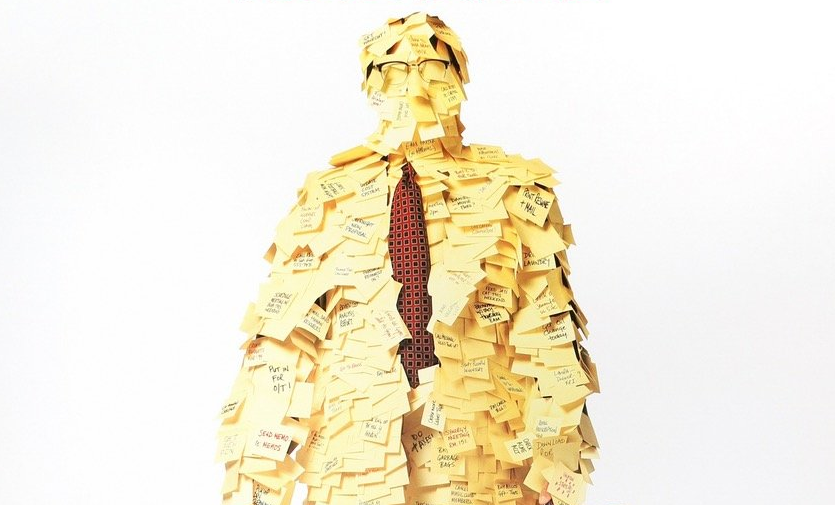 Like a lot of people, I've been working entirely remotely for a while now.
I'm not going back.
Its nice not having to travel and uproot myself on a day by day basis, relocating to an environment I have little to no control over while also being expected to do my best work.
I know that offices work well for some people, and its not like I haven't had good office experiences before, but my heart is firmly in the remote working camp.
I've got it pretty good at home though, so maybe the comparison is unfair. A private room just for work, minimal physical interruptions, barely any other responsibilities and an extremely supportive wife who sometimes bakes me delicious goodies.
But I'm rarely happy with the status quo because continuous improvement is the name of the game.
I Wouldn't Really Say I'm "Missing" The Office
Having engaged in a lot of remote work, one thing is intensely clear to me: having a space dedicated to work is critically important. A physical location that you can move into at the start of the day and away from at the end of the day.
These physical movements help you to establish boundaries to stop you from unintentionally overworking or underworking. Its easy to fall into either one of those traps when you overlap your leisure area with your work area.
At least, that's how it works for me.
I've made the mistake of trying to work from the same place that I play video games, and lets just say I wasn't delivering the most value that I could have been. So a long time ago I carved out a space and furnished it with a minimum of effort. A cheap sit-stand desk, an chair that I share with my gaming PC and an extra monitor sitting on a stack of books.
And all was well with the world.
Until I started a new job and the mental disruption that the transition invoked caused me to re-evaluate my remote working environment with a critical eye.
I Believe You Have My White Board
I'd already nailed the first and most important part of a remote working environment: a dedicated space.
Now it was a question of optimising that space.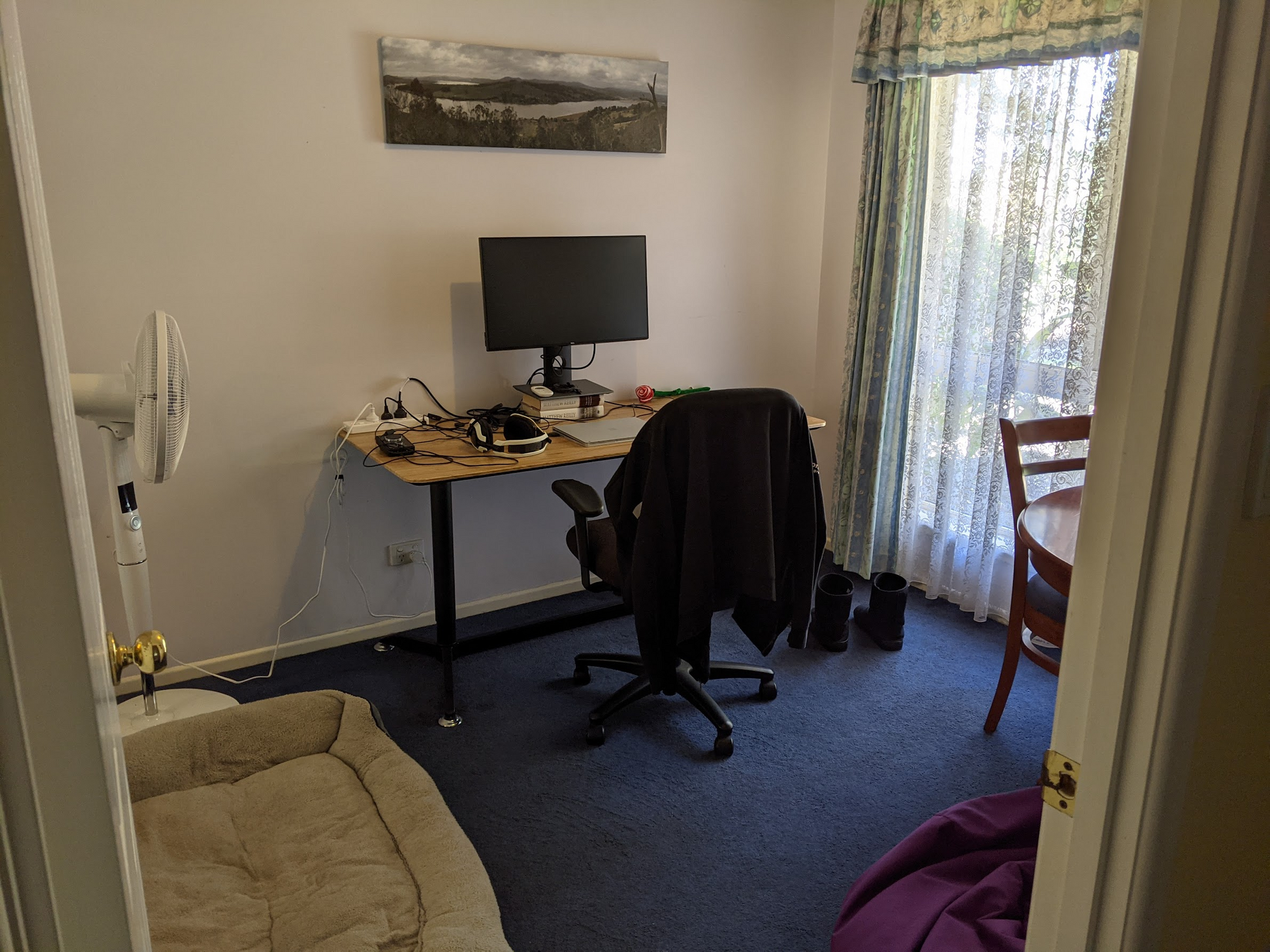 The first thing that had to change was the desk. It was wobbly, even when braced against the wall. Especially so when elevated to a standing position. That sort of thing annoyed the crap out of me, because every time I moved my arms or typed or looked at the keyboard funny, the display would bounce around.
The second thing was the chair. Comfortable enough, but the arms were cracked and broken, exposing some nice sharp shards of metal. Also, I had to wheel it in and out of the office every day, making a tonne of racket as the rollers went across our tiled floor.
The third thing was a space to scribble. I got very attached to a set of large whiteboards when I was working in the office, but gave them up when I started working from home. There is something innately pleasing about standing up, marker in hand, drawing a series of lines and boxes to solidify your thoughts.
The final thing was the general feel of the room. It didn't feel like an office, which is a nice unquantifiable statement if ever I've written one. I'm on Zoom a lot, so I want my feed to show books and things that are meaningful to me, to give a sense of who I am and what I care about. Also, facing away from the door just feels weird.
All in all a reasonable list of things that need to be changed, but still a significant amount of work to do.
Yeah...I'm Going To Need You To Do A Good Job
I'm either lazy or pragmatic.
Its hard to tell sometimes.
My first instinct was to find someone else to do everything for me. Give them a set of requirements/problems/ideas, have them propose a solution and then negotiate on an acceptable outcome in exchange for money.
You know, typical manager stuff.
So off I went, looking for companies that specialise in home office fitouts in Brisbane. Good companies though, not fly-by-night-no-proof-of-previous-successes companies.
Pickings were slim, but in fairness, I didn't really do an exhaustive search either. I found four candidates and sent out a relatively simple request for a "home office fitout".
I then promptly forgot about it and moved on with my life. Luckily for me, at least one of those companies had their shit together and Keith from Witbrook Projects followed up.
He was fantastic. He actively worked with me to come up with a quick design and then iterated on it until I was happy. Once I signed off on the quote, he got to work with no fuss and no muss. Even better, he was responsive to my questions and concerns and had plenty of good ideas about things that make an office effective for its occupant.
All in all, it was a great experience and I would highly recommend him and his company for a home office fitout.
At the end of the day, I spent ~$7000 and got:
A stable, electronic, sit-stand desk
A commercial grade dual monitor arm
A comfortable, high-quality office chair
The entire room repainted
Two monstrous bookcases
Whiteboard panels attached over the sliding cupboard doors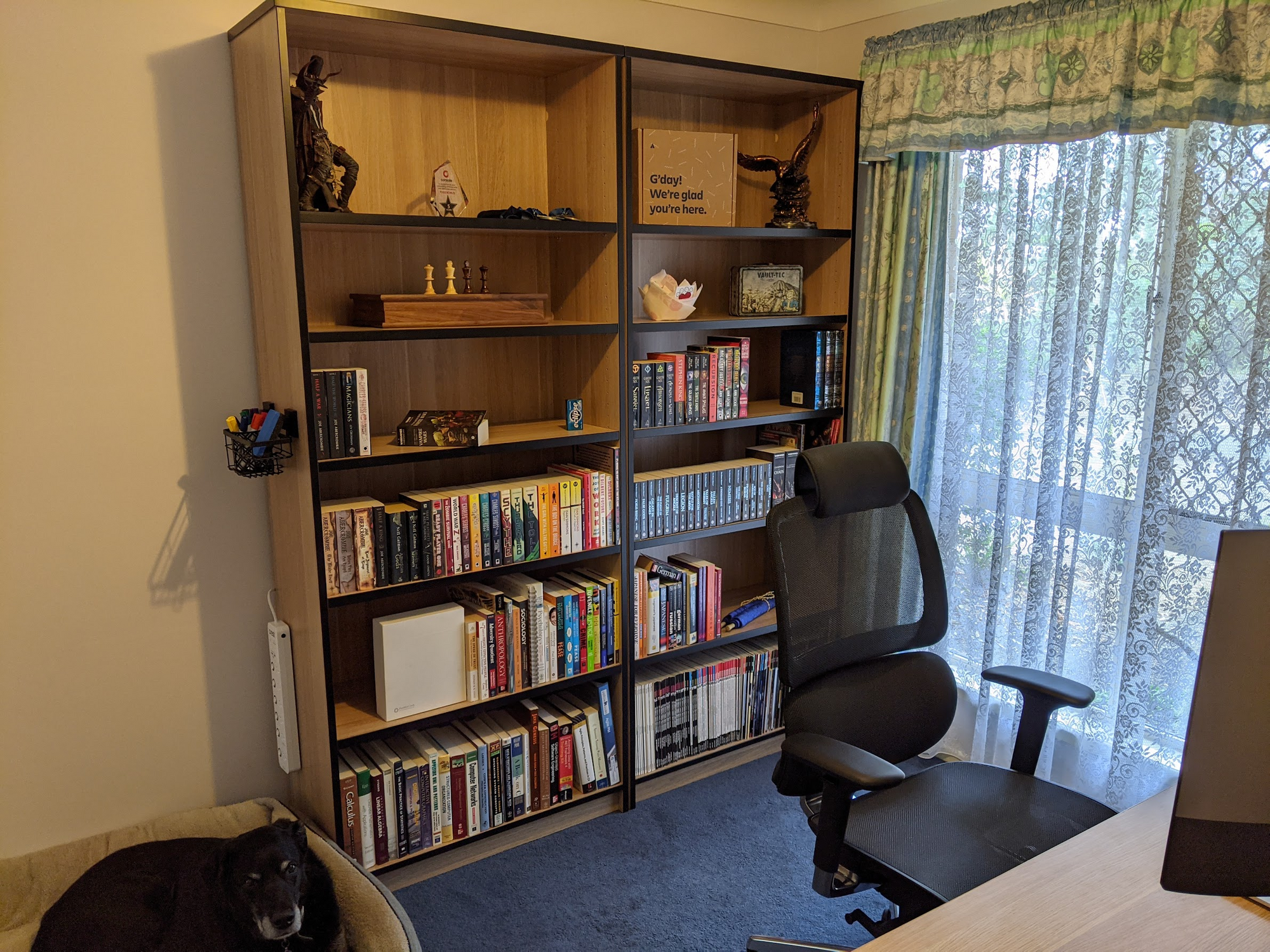 If you're curious, this Google Photos Album contains all of my before and after pictures (i.e. all the angles, not just the one from the door).
Space Out?
Its easy to overlook the quality of your remote working environment, especially if you consider working from home to be a transient thing. That's a slippery slope though, because once you've accepted something, it can be hard to go back on that mental decision later and change it for the better.
Personally, having spent the effort to improve it, I'm pretty happy with my new home office and I feel more productive and motivated. Money well spent in my opinion.
I do question whether or not I feel better because of the space or because of the change, which I hear is as good as a holiday.
Its probably a mix of the two, though only time will tell.